Click here to edit.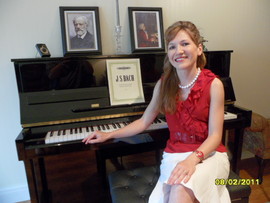 Dilya
's
Piano Studio
Home (812) 233-0427
Cell (812) 241-6036
Email dilyameehan@yahoo.com
Piano Lessons For You And Your Child
in my studio, Terre Haute, Indiana
All Ages Are Welcome!
I can help you get more from the piano than just notes!
I am a trained pianist from Europe

.

I am a prize winner of several International

Piano Competitions in Europe.
I have more than 15 years of teaching experience and have taught at the University level in Europe.


I am an accompanist for Indiana State University and a member of the Wabash Valley Music Teachers Association,

which is affiliated with the Music Teachers National Association.

I am fluent in English, Russian and Tatar.

I received a Bachelor of Music Degree in Piano Performance / Pedagogy

and a Master of Music Degree in Piano

Performance / Pedagogy from Kazan State Conservatory in Russia.
My resume is available upon your request.